by Karen Sawrey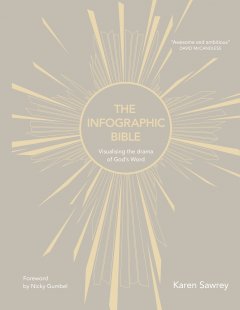 The Infographic Bible is hands down one of the best pieces of literature I have read. As a member of the BookLook Bloggers program, I was able to receive an advanced copy of The Infographic Bible but was under no obligation to write a review. However, I was so impressed with the quality and content of this Bible, I want to share it with everyone!
This Bible is the best of both worlds. It contains all the content that a reader familiar with the traditional text would expect, yet it is presented through beautiful graphs, stunning figures and tables, and innovative visuals that break down even the toughest concepts. Not only does the Infographic Bible appeal to adults seeking a deeper understanding of God's word in visual form, but I found that it also appeals to children also. My eight-year-old son was totally enamored with it and was eager to grab the Bible whenever he had a free moment which speaks to its ease of readability. Also, it's a sturdy book (read: kid-friendly). This is definitely a valuable resource for families, and there are both prompts and experiences for everyone to enjoy.
Although the information I digested is not new by any means, the way it was laid out and presented, allowed me to experience the Bible and its message in a fresh and unexpected way. I was moved to tears on several occasions as themes and stories were revealed with sharp clarity as I connected what I have read and known all my life with colorful and meaningful sights. The Bible is divided into sections, taking the reader on the journey through God's word as the overall story of love and redemption is truly is, and every entry in the sections are thoughtfully woven back into the overarching story. 
I cannot recommend The Infographic Bible highly enough. It is an essential reference tool for individuals at all levels of biblical knowledge and familiarity. More information is available here. It is available here and wherever books are sold.