by Shellie Rushing Tomlinson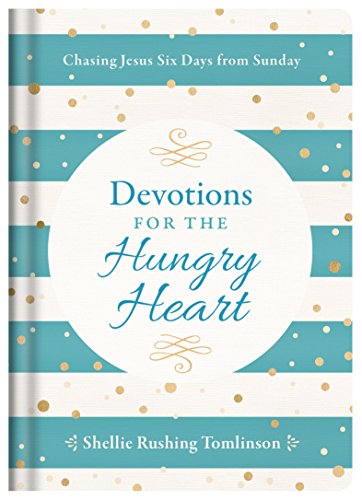 Friends, it's time for another book review! And you won't believe the fortuitous timing. Today, this lovely devotional book, Devotions for the Hungry Heart, is free on amazon kindle or your amazon app! So excited to share with you Shellie Rushing Tomlinson's  Southern flair on the gospel. She shares her heart for Jesus and some of her favorite recipes to satisfy your hungry heart and eager tastebuds. 
Tomlinson's daily messages of encouragement come from a place of warmth and hospitality and are just the right length to whet your appetite for Jesus no matter the time of day. Each week is set up to give you a 6-day dose of inspiration with a day off to reflect. From friendship to parenting, pet adventures to doctor visits, Shellie weaves stories of her life through the context of God's word. 
This book makes a great gift as well as one to keep on the shelves to be savored again and again. Go grab your copy today! 
P.S.
I received a complimentary copy of this book from Barbour Publishing and was under no obligation to post a review. 
From My Hungry Heart to Yours,
Quanny