God, create a clean heart for me and renew a steadfast spirit within me.
Do not banish me from your presence or take your Holy Spirit from me.
Restore the joy of your salvation to me,
and sustain me by giving me a willing spirit.
Then I will teach the rebellious your ways, and sinners will return to you.
Psalm 51:10-13 CSB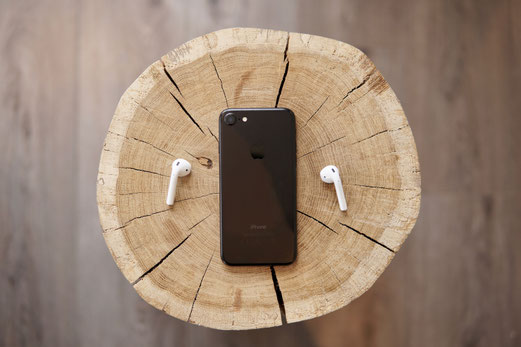 I am a firm believer that you are never more acutely aware of something of extreme value you possess until you lose it. Wrote a little bit about this before, seems like a common theme lately. The lessons of value, loss, and restoration can be seen and felt in all facets of life. Hopefully, I will be able to share these experiences to my children in such a way that repeating the mistakes I've made isn't necessary.
I have a particular smart phone (doesn't matter which one although the pic may have given it away lol) and my husband and I decided we were ready to upgrade. I have always done so with trepidation because I had fumbled in the past with retrieving important information and/or apps on my phone. This time, I was excited because I had prepared ahead of time by backing up my contacts, apps, etc., and was confident it would be a successful and easy process. Once I received the upgraded phone what I believed to have been a complete restoration of my information was actually just a fragmented portion. There were chunks of data missing...large chunks. After much tinkering, it dawned on me I couldn't remedy this situation on my own - I needed help. I had to call customer service. And guess what? They knew exactly what to do. Not only did they have the answer to the problem I couldn't solve, they were also able to restore all that had been lost.
---
Alas, we are not alone in our quest for restoration. King David knew quite a bit about restoration didn't he? After his fall with Bathsheba, he devotes an entire chapter in the book of Psalms to asking God to restore him (Psalm 51). He recognized that he could not fix his sin issue on his own - he needed to call God's customer service department and request an upgrade on and restoration of his heart. He took his fragmented life and set it before the Divine Manufacturer. Ya'll, unlike David, I am sometimes a little hesitant to call out for help. Do I really think I am knowledgeable enough to fix, handle, and resolve the losses in my life on my own? Am I totally dependent on the Expert to bring back what I have lost? If He can recover "lost" information for a girl who loves her smartphone, He can surely restore my broken heart from miscarriage, death, sickness, disappointment, etc. The value that we often overlook in our daily routines and relationships seems to come to a screeching halt when those people, situations, jobs, or items are suddenly and irreplaceably gone.  My humanity foolishly presumes that if I can just rationalize "why", or figure out how to fix it, then maybe it won't hurt so much. Hmmm. Good thing God is in charge.
Here's what I learned through this small, but extremely major ordeal. 
1. Loss happens, it's totally out of our control. 
2. Sometimes it happens to help us see value where we previously saw none.
3. Restoration is possible and is only a prayer (or in this case, a phone call) away.
Here's the hard part: Rebuking the spirits of doubt, fear, self-trust, and independence from God. We cannot in our own strength restore ourselves, but we can turn to the One through Whom all things are possible. His track record is flawless, and we must depend on Him.  Whether or not our restoration happens immediately, or in the earth made new, it will happen.
From My Restored Heart to Yours,
Quanny